According to the bibliographic survey: Laminaria digitata (%)
Fucoidanes 46.6 | Alginate 15 to 30 | Laminarin 55.8 | Fucose 67 | Calcium 0.07 – 2.82 | Magnesium 0.39 – 2.62 | Potassium 1.22 – 10.89 | Fucoxanthin 178 – 468 mg/kg
Laminaria is harvested by the company BioMolenez. It develops below low water level in areas with strong currents. Harvesting is mainly carried out by boats (seaweed harvesters) as the kelp fields are not easily accessible at low tide.
Once harvested, the seaweed is macerated and filtered to obtain an extract containing a maximum of bioactive compounds. This algae has many strips of 3 to 4 metres in length.
Mainly widespread in the cold coastal waters of the North Atlantic and the North Sea, it is less common or very rare in the coastal waters of the Mediterranean Sea, its presence may be related to specific environmental factors such as sea currents, water temperatures, salinity, light, etc. It is often found in areas exposed to waves and strong currents.
Temperature tolerance: -1 to 20

Organic extract
An extract containing the seaweed, glycerine, an acid and a preservative
Liste des ingrédients : GLYCERIN, AQUA, LAMINARIA DIGITATA EXTRACT, SODIUM BENZOATE, POTASSIUM SORBATE, LACTIC ACID
{{ group }}
{{ object.name }}
{{ object.name }} {{ object.subheader }} {{ icon.replace(/^icon_/, '') }}
{{ label }}

Oily
An extract containing seaweed, water, bio ethyl alcohol and ethanol G
Liste des ingrédients : CAPRYLIC/CAPRIC TRIGLYCERIDE, FUCUS VESICULOSUS EXTRACT
{{ group }}
{{ object.name }}
{{ object.name }} {{ object.subheader }} {{ icon.replace(/^icon_/, '') }}
{{ label }}

100% Natural
Liste des ingrédients :
{{ group }}
{{ object.name }}
{{ object.name }} {{ object.subheader }} {{ icon.replace(/^icon_/, '') }}
{{ label }}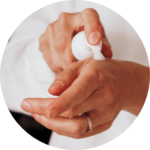 Anti-ageing face cream
Mask
SPA treatments, massage oils
Body lotion and cream
Formulation characteristics
1-5% usage
Maximum pH of 5.5
Dispersible in alcohol and soluble in water
Tested under dermatological control