According to the bibliographic records: Pelvetia canaliculata (%)
Fucose 72 | Uronic acids 28.1 | Vitamin B9 0.3
The algae is harvested by the company BioMolenez. Harvesting is done by hand at the highest level of the foreshore, starting in late spring.
Once harvested, the seaweed is macerated and filtered to obtain an extract containing a maximum of bioactive compounds. Pelvetia can be recognised by its bushy, channel- or gutter-shaped thallus. It lives attached to rocks. Its colour varies between olive green and black when dry.
Mainly found in the cold coastal waters of the North Atlantic, especially in the coastal regions of North America (such as Canada and the United States) and Europe (such as the UK, France, Spain and Norway). It is often found on rocks and stones, in areas exposed to waves and strong currents. It is also found in the coastal waters of Antarctica.
Temperature tolerance: 1 to 15

Organic extract
An extract containing the seaweed, glycerine, an acid and a preservative
Liste des ingrédients : GLYCERIN, AQUA, PELVETIA CANALICULATA EXTRACT, SODIUM BENZOATE, POTASSIUM SORBATE
{{ group }}
{{ object.name }}
{{ object.name }} {{ object.subheader }} {{ icon.replace(/^icon_/, '') }}
{{ label }}

100% Natural
Liste des ingrédients :
{{ group }}
{{ object.name }}
{{ object.name }} {{ object.subheader }} {{ icon.replace(/^icon_/, '') }}
{{ label }}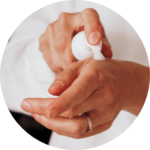 Anti-ageing care
Moisturising care
Formulation characteristics
1-5% usage
Maximum pH of 5.5
Soluble in water but insoluble in alcohol
Tested under dermatological control