According to the bibliographic records: Ulva sp. (%)
Ulvans N.D. | Rhamnose 32 | Sulphates 20 | Protein 24.4 | Vitamin B9 0.1 | Magnesium 2.7
The sea lettuce is harvested by the company BioMolenez. It is found in well-lit deep waters. It is therefore often submerged and only appears at high tide.
It can be harvested throughout the year, but preferably in spring and autumn at mid-tide. Once harvested, the seaweed is macerated and filtered to obtain an extract containing a maximum of bioactive compounds.
Mainly found in the coastal waters of the North Atlantic, the Mediterranean Sea, and the Black Sea. It is often found in areas exposed to waves and strong currents. It is also found in tropical and temperate waters of the Indo-Pacific.
Temperature tolerance: 0 to 30

Organic extract
An extract containing the seaweed, glycerine, an acid and a preservative.
Liste des ingrédients : GLYCERIN, AQUA, ULVA LACTUCA EXTRACT, SODIUM BENZOATE, LACTIC ACID, POTASSIUM SORBATE
{{ group }}
{{ object.name }}
{{ object.name }} {{ object.subheader }} {{ icon.replace(/^icon_/, '') }}
{{ label }}

100% Natural
Liste des ingrédients :
{{ group }}
{{ object.name }}
{{ object.name }} {{ object.subheader }} {{ icon.replace(/^icon_/, '') }}
{{ label }}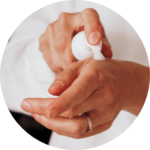 Anti-ageing care
Eye contour care
Formulation characteristics
1-5% usage
Optimal pH between 5 and 5.5
Clear liquid
Tested under dermatological control